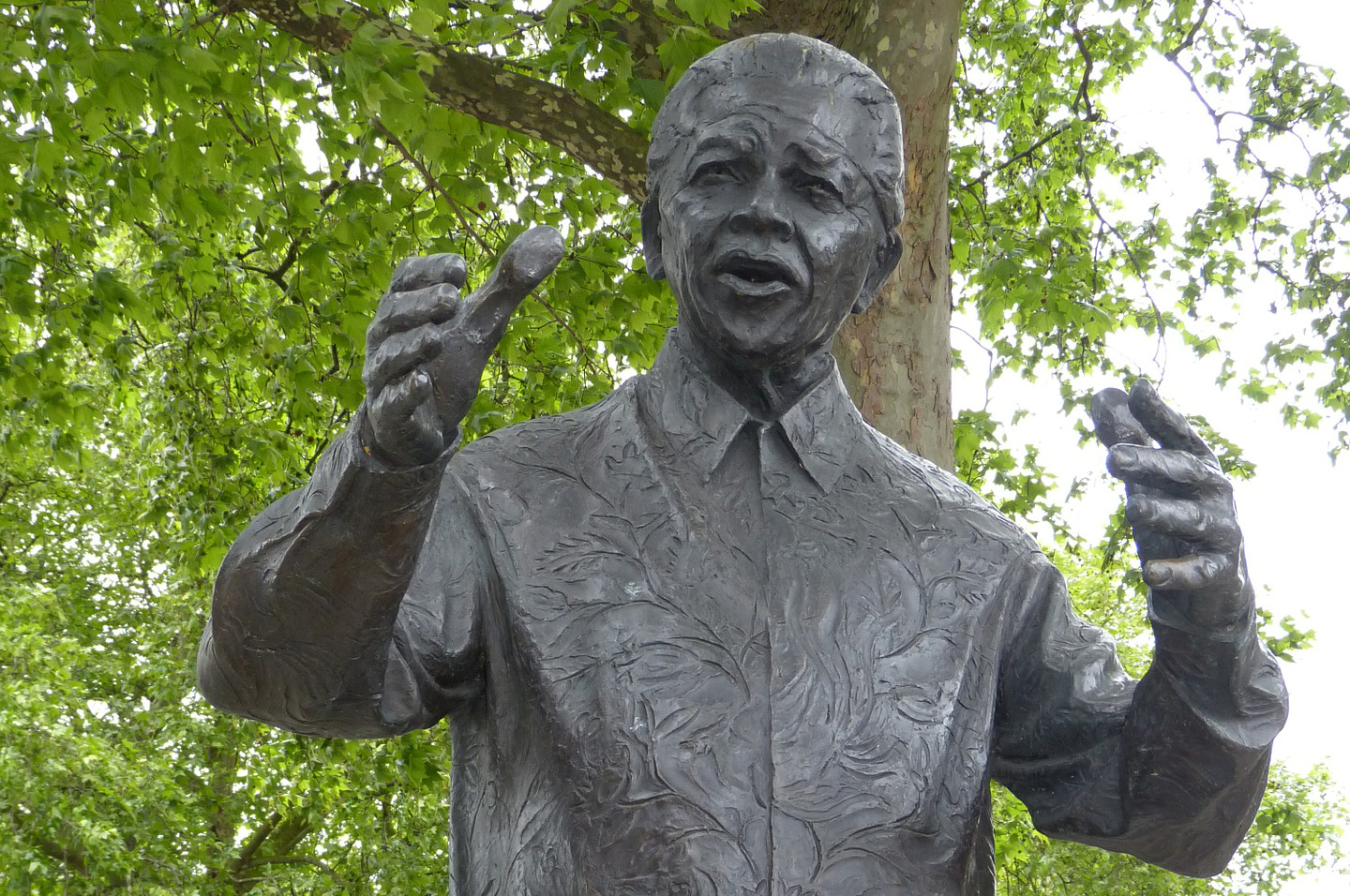 As much as there had been celebrations to enjoy, for Her Majesty Queen Elizabeth II in the 1980's, with lavish weddings and new additions to the family, the 1990's was to prove, personally, her most challenging yet. The decade would bring break-ups and divorces, along with a devastating fire and a tragic death. However, she would also find a great friend in the unlikeliest of circumstances. We begin, with a trip to South Africa.
Nelson Mandela and South Africa
On February 11th 1990 Nelson Mandela was released from prison after 27 years. In 1991, as President of the African National Congress, he attended the Commonwealth Summit in Harare, Zimbabwe, as a special guest. Mandela, in the hope of meeting Queen Elizabeth, essentially charmed his way into the Queen's Banquet for Heads of Government. As he was not supposed to attend, Queen Elizabeth's aides advised her of the situation, and the Queen promptly ordered an extra place be laid for him, close to her.
In 1994, Nelson Mandela became President of South Africa, and the following year, Queen Elizabeth and Prince Philip were invited to Cape Town by the President. On the Queens first official visit to post-apartheid South Africa, against security advice, she and her husband visited black townships where they were greeted with tears of joy, by black and white supporters alike.
The trip happened to happily coincide with the rainiest season in South Africa for a decade, and the Queen, along with her many other titles, was renamed Motlalepula, or 'Rain Queen'.
In 1996, in an official state visit, President Mandela was invited to Buckingham Palace. At a lunch there, the President poured out his admiration 'for this gracious lady'. In return, the Queen stood, and, without a prepared speech, praised 'this wonderful man'.
Annus Horribilis
On March 19th 1992, the Duke and Duchess of York, Prince Andrew and Sarah Ferguson announced their separation. It was to be the first announcement in a year that the Queen would later refer to in her Christmas Day speech as an "annus horribilis", which means a year of disaster or misfortune.
In April, Princess Anne and Captain Mark Phillips divorced after three years apart, and in November, just days before Queen Elizabeth and Prince Philip were due to celebrate their 50th wedding anniversary, Windsor Castle was devastated by a fire which was started accidentally, when a spotlight pressed up against a curtain.
Buckingham Palace opened its doors to the public for the first time in 1993 in an attempt to recoup some of the costs incurred from the refurbishment of Windsor Castle.
The year ended with the Prince and Princess of Wales, Charles and Diana, announcing their separation. They would go on to officially divorce in 1996, along with Prince Andrew and Sarah Ferguson.
Presidents and D-Day
Ronald Reagan and his wife Nancy, were invited aboard Her Majesty's yacht in 1991 for a function that was also attended by former President, Jimmy Carter. The function was filmed for a documentary called 'Elizabeth R: A Year in the Life of the Queen'.
In 1994, President Bill Clinton and Hillary, met the Queen, again aboard her royal yacht Britannia. The couple spent one night there before heading to Normandy for the D-Day anniversary celebrations aboard the USS George Washington. The Queen and Prince Philip visited a cemetery in Normandy, to pay their respects to all those who had lost their lives in battle.
Princess Diana
In the early hours of the 31st August 1997, reports emerged from Paris, France, that a car in which Diana, Princess of Wales was travelling in, was involved in a crash which had claimed the lives of Dodi Fayed, the Harrods heir, and also Henri Paul, the driver of the vehicle.
Just hours later it was confirmed that Diana had died in hospital, as a result of her injuries. The day before her funeral, Queen Elizabeth addressed the nation with a tribute to Diana, and on the 7th September the funeral of Diana took place at Westminster Abbey, viewed globally by more than 32 million people.
A Royal Wedding
On 19th June 1999, the Queen's youngest child, Prince Edward, married Sophie Rhys-Jones at St. George's Chapel, Windsor Castle. At the request of the couple, it was not a state affair, and was attended mainly by family members.
The Nineties had indeed proved to be a challenging decade for both the Queen, and her family. The 2000's would begin with Queen Elizabeth, The Queen Mother becoming the first member of the royal family to reach 100 years of age, and receive a hand-written telegram from her daughter!
This year, July 1st, would have marked Diana, Princess of Wales, 60th Birthday. We have marked this occasion with a beautiful range of gold sovereigns, capturing her beauty. You can see what remains of this range HERE.