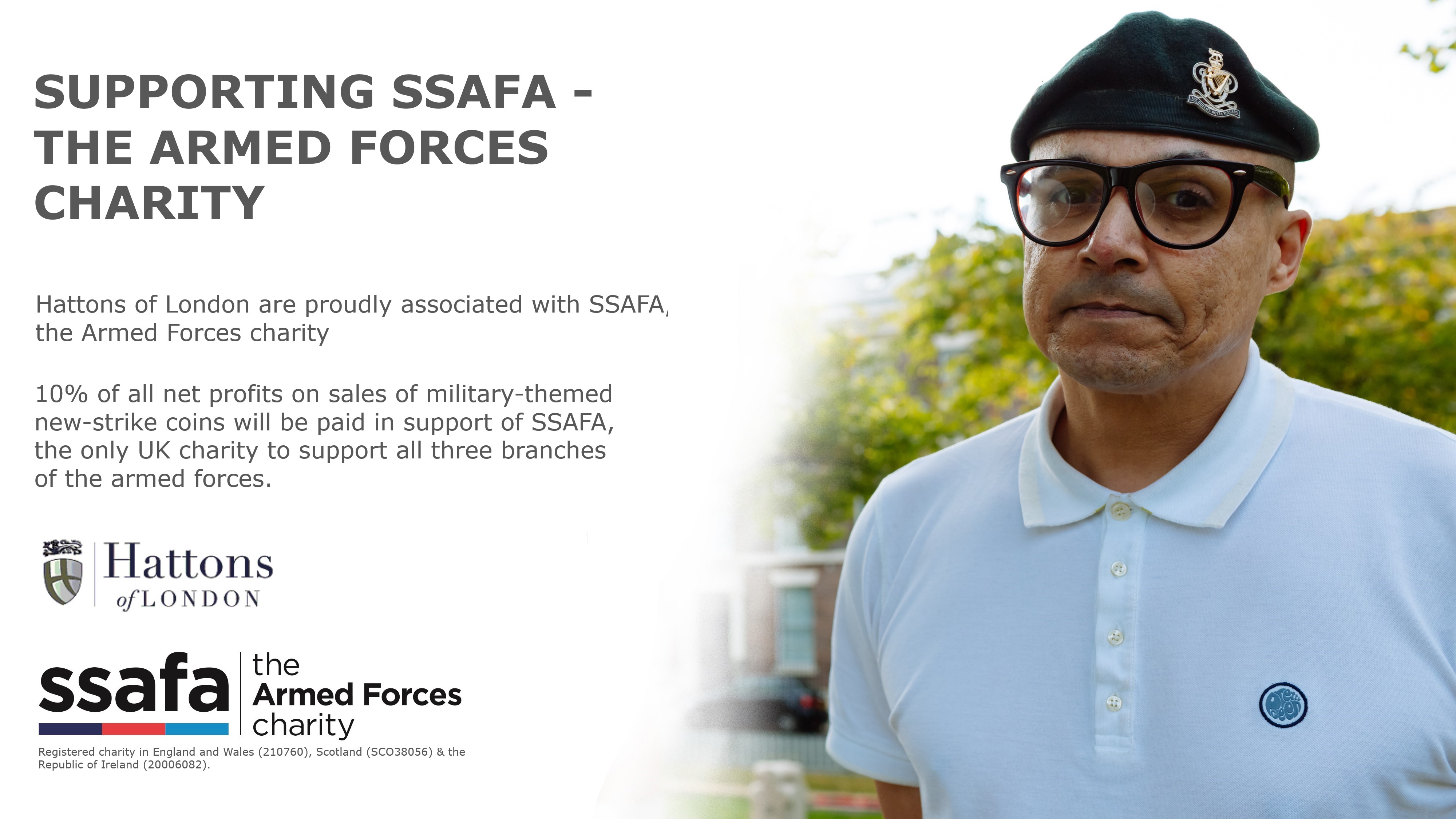 Simon Mellinger, Managing Director, Hattons of London
"Hattons of London is delighted to be supporting SSAFA, the Armed Forces charity, through sales of selected coin series. Already, through the Armistice Centenary Sovereign range, we have raised in excess of £80,000 towards the incredible work this charity undertakes. In the coming months we will be launching other Sovereign ranges which support their activities. Our staff are also actively engaged in helping through their own personal efforts. We are privileged to be working with such an esteemed charity."
Rebecca  Keaveney, Head of Commercial Operations, SSAFA
"SSAFA, the Armed Forces charity is proud to be partnered with Hattons of London on their 2018 Armistice Centenary Remembrance Sovereign range, through which we hope to raise awareness of SSAFA's services, providing lifelong support to our Armed Forces, veterans and their families.
With 10% of net profits on sales of the Armistice Centenary Remembrance Sovereign range being paid in support of SSAFA, the partnership will also allow SSAFA to raise valuable funds that will assist us in our continued mission to relieve need, suffering and distress to support independence and dignity within the Armed Forces community.
SSAFA has helped service men and women, Armed Forces veterans and military families get back on their feet when they are in need.
Their vision:
In recognition of their service to the Nation, SSAFA works to ensure that the needs of the Armed Forces, veterans and their families are met in an appropriate and timely way.
Their mission:
They exist to relieve need, suffering and distress amongst the Armed Forces, veterans and their families in order to support their independence and dignity.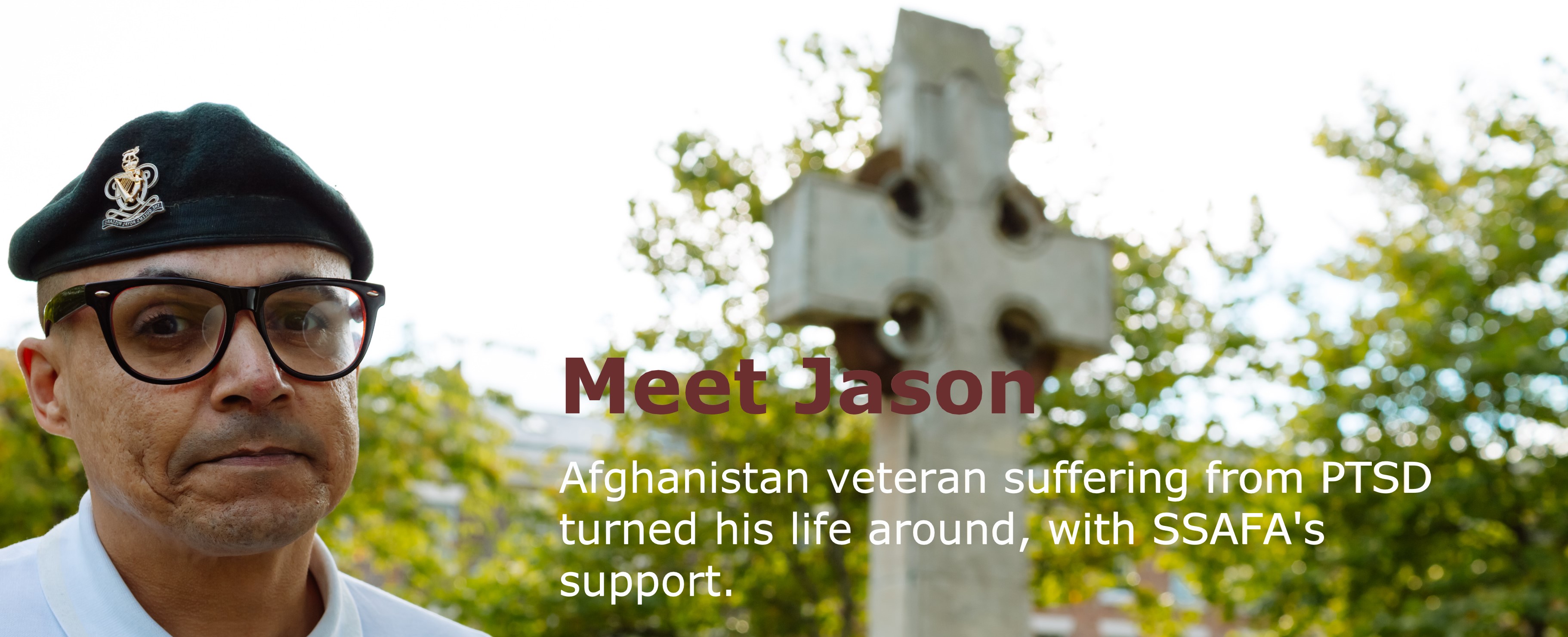 Jason Wheeler, 46, served 15 years in the Army. He was medically discharged in 2013 suffering from PTSD and depression and became increasingly isolated, shunning contact with the outside world and hoarding rubbish in his flat. When he was burgled in 2015 it proved to be a turning point and a SSAFA caseworker has helped him to look to the future. Jason now uses art to help him focus and won the Army Templar Award for soldiers who use art as a therapy for mental health problems.
Jason was a Corporal in the Queen's Royal Hussars. He joined the Army in 1997 and won the award for best recruit in basic training. He went on to serve two tours of Kosovo, two of Iraq and one in Afghanistan winning the Brigadier's Commendation following his second tour of Iraq for his work training Iraqi soldiers.
He said: "Everyone has a different reason for joining but mine was to go out and help people and I did get to do that. My relationship with my mum was not a good one at all but the Army makes you feel like you have a family. Wherever you are you are always with other people going through the same thing so you bond – you go to the darkest of places together but also the best.
"Kosovo was peacekeeping with the UN. I went in 1999 and 2000. I remember volunteering one Christmas Eve to go out on Christmas Day to give out blankets and soft toys. I thought I'd rather do that at Christmas than sit around camp."
Following a gruelling tour of Afghanistan in 2011, Jason was put on sick leave and sent home to Liverpool. He said: "I lost a really good friend out in Afghanistan. I was attached to the Artillery. There were eight of us in this small tent together for seven and a half months. You laugh together, you work together, you moan together and then the day you are flying out is the day your mate gets shot and killed."
While at home Jason was visited by a welfare officer every two to three weeks and assessed by an Army psychiatrist but once he was discharged in September 2013 that support network was no longer available. He said: "Because I was living at home when I took my first overdose the Army said they were happy to leave me in the hands of the NHS. Two of the guys from my unit were coming up to see me in their own time. I took two overdoses in the first year and another in 2013. It was a downward spiral and I just stopped caring for myself. I was living on the couch, I wasn't showering. I lived 24 hours a day in the same little space.
"I just really did not care about myself and I suppose in a sense I didn't care about anybody else. I didn't feel guilty about the overdoses. I felt guilty for being alive."
Surprisingly, it was a burglary in April 2015 that helped Jason come to terms with the way he was living and start to turn things around. "I came home after going into town and found the door wasn't shut properly. Some guy had broken in. He would have been confronted with all these bags of rubbish and bottles of urine but he still stole some of my A Team collection.
"I called the police and the burglary section turned up. They did their thing and even secured the door for me and then left but what they also did was get in touch with SSAFA. I got a call initially and that was quite surreal because up to the point when I was burgled I had never invited anyone here. I had almost got comfortable with how I was living. The idea of having a burglar did not faze me but the thought of someone coming in and seeing all that mess did. It was shock to the system. It wasn't fit for a dog let alone a human being. But I think that whole process needed to happen."
SSAFA caseworker Bill Hunt visited Jason at home and sat and listened to Jason's story. He said: "When Jason finished talking I said you grab a bag and I'll grab a bag and we'll get started and we both took a bag down stairs and then we got going.
"SSAFA managed to get the funds together to clear the flat, then decorate it and furnish it. We needed to get Jason to understand that he had to come out of the dark place he was in. With Jason's permission I spoke to his GP and we agreed a plan of action."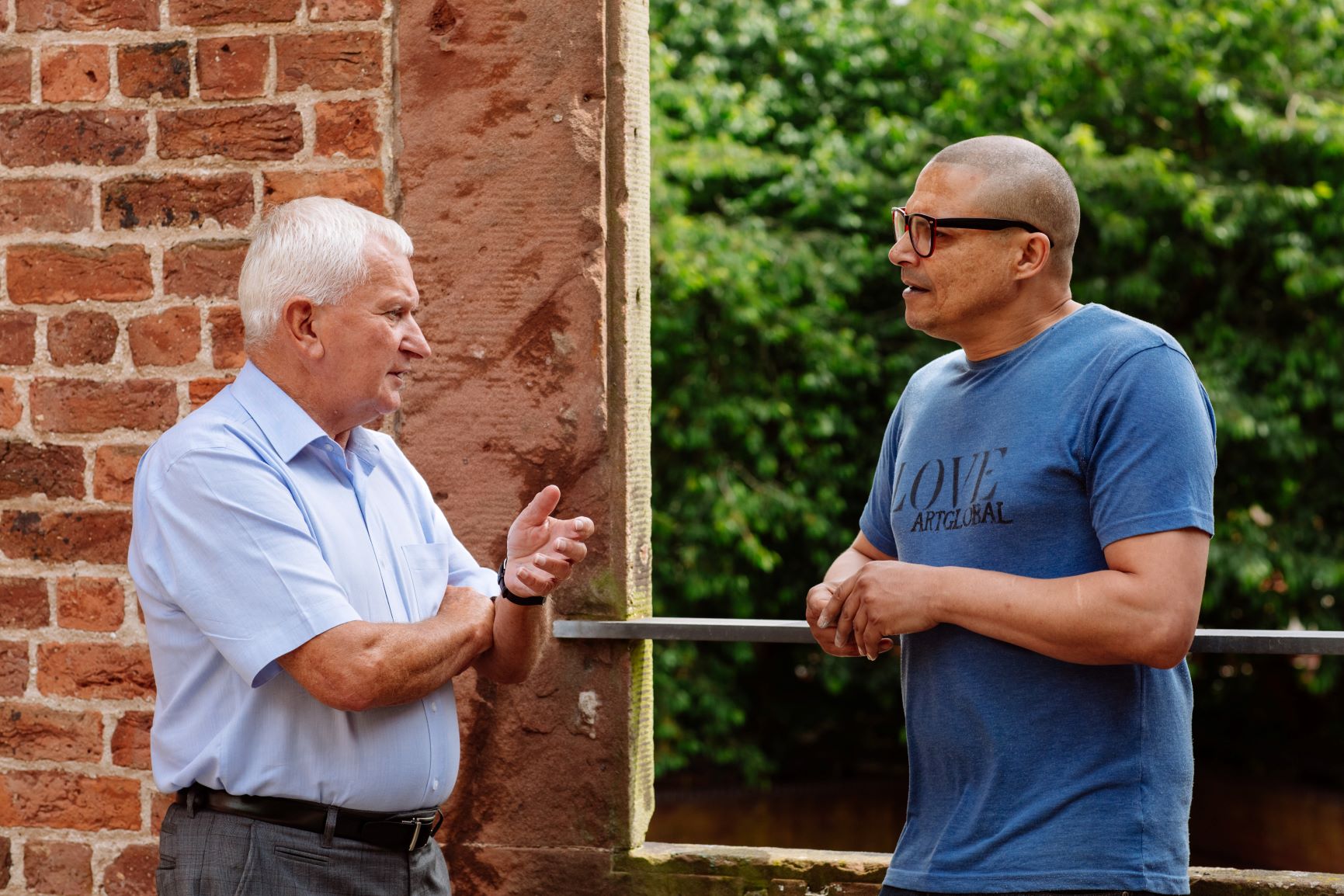 Jason has spent two Christmases in psychiatric hospital. He said: "When depression kicks in it's really controlling and demanding. From being a really good soldier in the army and being able to think on my feet I now find things difficult that just wouldn't have been before.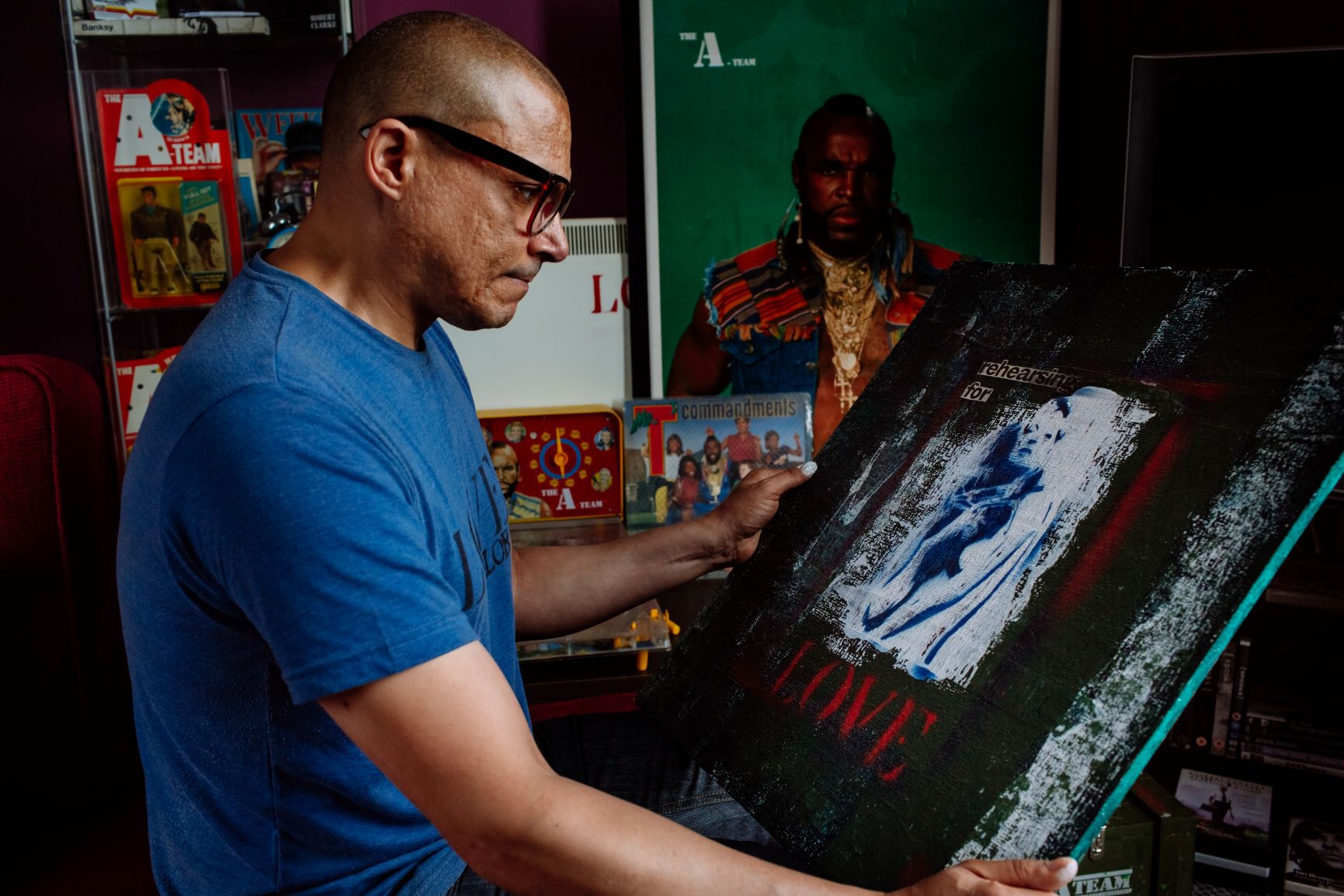 "I have thrown myself into my artwork which has kept me focused. When I got admitted after my first breakdown I was in a psychiatric hospital for two months. The occupational therapists asked me if I wanted to do some painting. I was very negative and stand-offish for a couple of days but they persisted with me and I thought I'll give it a go. Because of everything that I have experienced, everything that I've seen, everything that I've heard – all the bad things – I thought I would do something based on the word love. Because instead of going forward in the world we seem to be going backwards. I painted a piece of wood white and then stencilled 'love' in red and that was where it started.
On the suggestion of his welfare officer Jason entered the Army Templar Award for soldiers who use art as therapy for mental health problems. "He brought me a form and I left it for weeks but in the end I sent something off and about two months later I got a call saying I had won the award. After that I started to create social media pages based around the art called Love ArtGlobal and they are all doing really well. Now I know it affects other people so I'm going to keep going.
"When I first had my breakdown my friends just disappeared. At the time I was angry but now I think they just didn't know how to deal with that situation. So when I first got to know Bill I was swerving people but Bill just stuck in there.
"When I walk through my door now instead of being greeted by flies and whatever now it makes me smile. It's how I want it to be. It feels like a home now. Bill managed to get me a scaffold, SSAFA supplied the paint and I did all the painting. I think, psychologically, I needed to be the one to change it.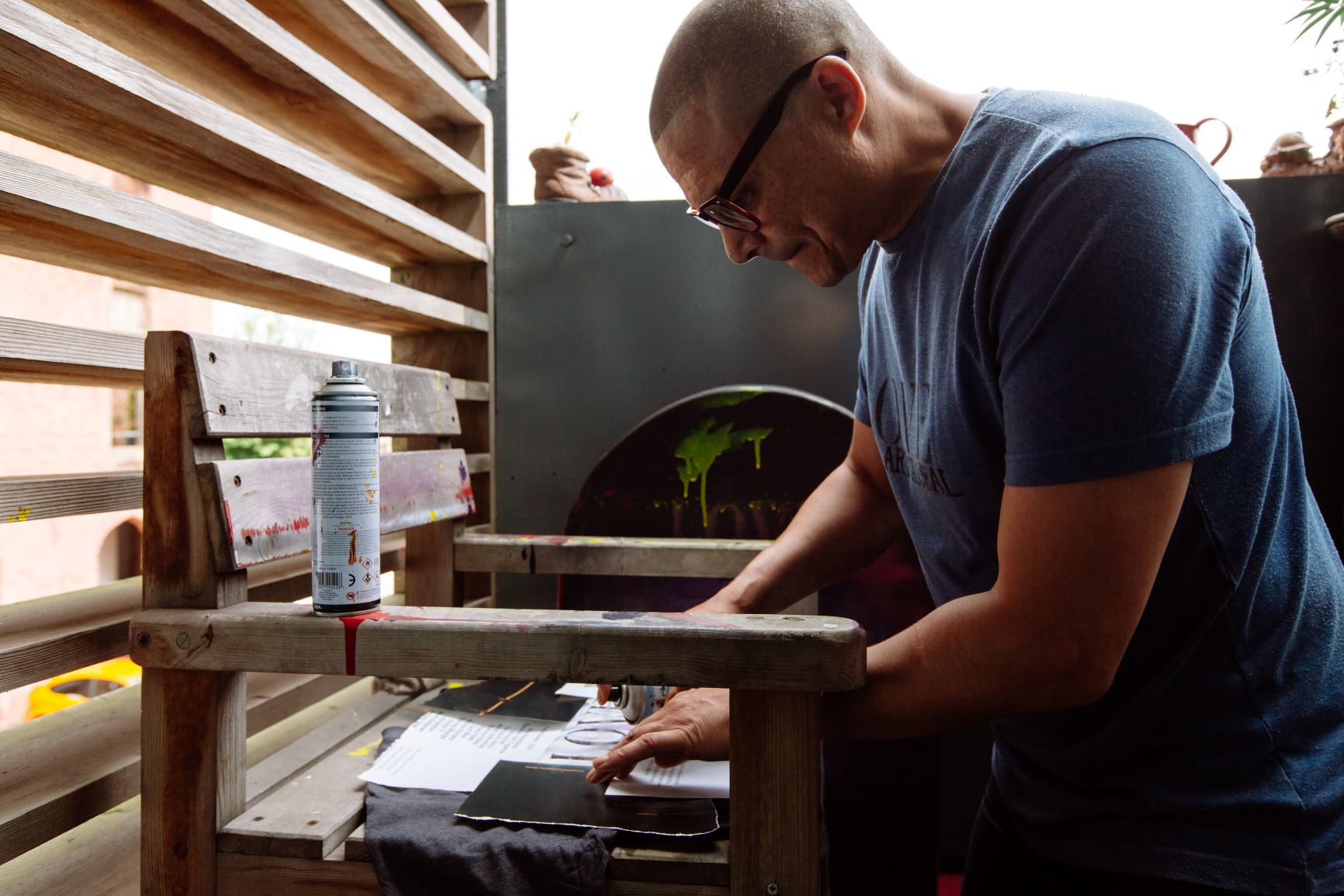 "It's important to be honest. I'm not embarrassed or ashamed of how I used to live. Someone out there will need to know that if they are hoarding rubbish and bottles of urine it's not just them. It's only through time that I have realised I'm not the only one.
"My life is improving every day and I have a more positive outlook. What was it that turned it around for me? It was Bill – and SSAFA."
Jason was presented with the Merseyside Recovery Award 2015 in recognition of his artwork and outdoor installations while in recovery and continues to work with community groups to produce art around the theme of Love.