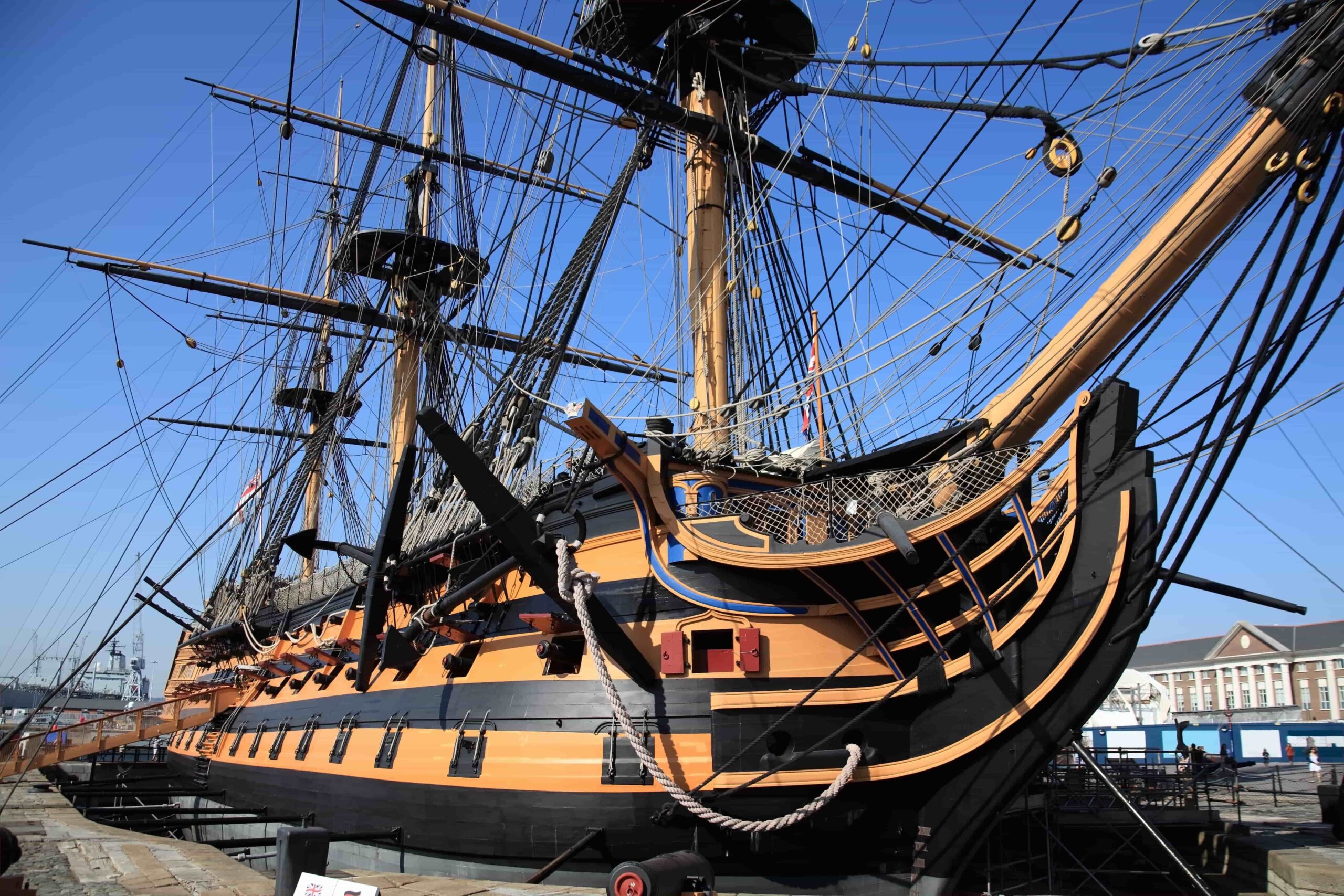 Famously known as Lord Nelson's flagship during the Battle of Trafalgar, HMS Victory, which remains today in Portsmouth harbour, is the oldest commissioned warship in the world.
Here, we have eight facts about this incredible warship…
The Construction of HMS Victory
The HMS Victory was ordered in 1758 alongside twelve other ships by Pitt the Elder. Victory was one of the largest ships at the time, and was laid down in 1759. It took six years to build but was finally launched in 1765. Therefore, with 245 years of service, HMS Victory is the world's oldest naval vessel.
Specifications
Around 6,000 trees were using during HMS Victory's construction and it was built with 104 guns, crewed by 821 sailors. From bowsprit to taffrail, Victory is 226 feet 6 inches long. It also has a width of 51 feet and 10 inches, and weighs 2,196.6 metric tons. In 1780, the bottom of the ship was coated with 3,923 sheets of copper in order to prevent shipworm from weakening it over time.
Stagnant until the American War of Independence
Although HMS Victory was designed to be one of the biggest and most important ships within the British navy, it stayed stationary at the River Medway for a total of 13 years. Once France entered the American War of Independence, the ship was activated.
The Crew
HMS Victory housed over 800 crew members. During their time aboard, the crew were not allowed to drink water and instead had to resort to beer or wine. Their diet was also limited as the meat on board was extremely tough due to being stored in barrels of salt.
Speed of the Warship
In terms of speed, this famous warship was built with three masts and thirty-seven sails. Its fastest speed recorded was 11 knots, which equates to 12 miles per hour.
Battle of Trafalgar
HMS Victory is best known for its role at the Battle of Trafalgar on 21st October 1805. Although the British force was extremely outnumbered during this battle, Vice-Admiral Lord Nelson led Britain to victory against the French and Spanish. The Battle of Trafalgar confirmed Nelson as a national hero. However, he was unfortunately fatally shot during this battle.
HMS Victory and Its Victories
Victory was named after the multiple victories that Britain faced against the French. It is the only surviving ship to have fought in the French Revolution, the Napoleonic Wars and the American War of Independence.
Docking Location
In 1922, HMS Victory was placed in Portsmouth, the oldest dry dock in the world. It is still there today, with renovation work continually taking place. It is also open everyday to the public for those with tickets who wish to visit this famous ship.
To mark the 225th anniversary of Lord Nelson's victory at the Battle of the Nile, this incredible sovereign range has been issued. What's more, when correctly arranged, this set forms a side view of Victory. You can view this HERE.