Description
World's first seven-sided gold one-eighth sovereign coin celebrates the seven-sided 50p and decimal changeover
2021 marks the 50th anniversary of decimalisation in Britain, the biggest single change to our currency in over 1,000 years. The introduction of a decimal system of currency was a huge undertaking: almost a decade in the planning, it affected just about every facet of everyday life. In the lead-up to changeover in 1971 the government undertook a 'saturation' advertising campaign – it was difficult to look in a newspaper or watch TV without seeing an ad, or a news piece, about the change to decimal currency. And yet, when the change came, no amount of preparation was enough – people were still unprepared. Everyone in Britain at that time had spent their whole lives calculating with twelve pennies to the shilling and twenty shillings to the pound and now, with one action, this was swept aside and a new way of calculating replaced it.
It was a revolutionary change in British currency, which is why this year's commemoration is so significant.
To celebrate 50 years of decimal changeover an important new gold sovereign coin has been struck. Why is it so important? Well, it's the world's first seven-sided gold one-eighth sovereign, in recognition of the fifty pence, one of Britain's new decimal coins and at the time the world's first seven-sided coin! Its revolutionary shape made it not only incredibly distinctive, but also the only coin of its kind anywhere in the world. It remains today one of Britain's most popular coins and a source of national pride.
The new one-eighth sovereign features an iconic pre-decimal coin motif with a decimal one – Portcullis from the pre-decimal threepence and Britannia from the decimal fifty pence. This finely balanced combination of historic and beautiful motif is by the talented artist Matt Dent. His name may already be familiar to you? He is the designer of Britain's current circulating decimal coins: the one penny to one pound with the 'jigsaw' of the Shield of Arms. There is a significance in having the creator of Britain's current decimal coins create the designs for this 50th anniversary of decimalisation – yet another feature that makes these new sovereign coins exciting.
Decimalisation's 50th anniversary celebrated with a series of designs by the creator of Britain's current decimal coins!
The change from pre-decimal to decimal coins is illustrated on this world first gold one-eighth sovereign in these new designs created by Matt Dent. He is famed for creating the designs on Britain's current circulating decimal coins: the 'jigsaw' designs of the Shield of Arms where each coin has a piece of the shield design. In his designs for this new new coin, the one-eighth sovereign pairs Britannia, symbol of naval might and courage, with the imposing portcullis gate of Henry Tudor.  The pre-decimal motif is shown on the left, with the decimal motif on the right of the coin, illustrating the transition from 'old' to 'new'.
Authorised by Alderney, and approved by both the Foreign, Commonwealth and Development Office and Buckingham  Palace, it is a wonderful celebration.
Benefit from the SELL OUT GUARANTEE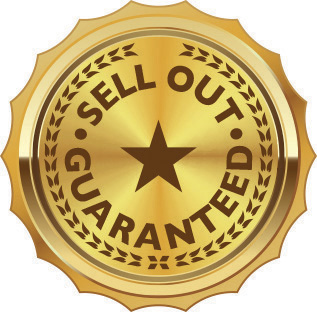 The 2021 50th Anniversary of Decimalisation Gold One-Eighth Sovereign is limited to just 4,999 coins, but this is subject to our new SELL OUT GUARANTEE. What this means is that availability of this coin will end on 31st October  2021. At that time, any coins that are unsold will be melted down and verified to that effect.
At that point, we will issue to owners of this coin a new certificate stating the final mintage which may be lower, or possibly considerably lower, than 4,999. If the mintage remains at 4,999 then this means the coins sold out entirely to keen customers, and if not you may have secured for yourself a low mintage rarity.
Either way, there will be little or no surplus of this coin on the secondary market and so the coin you own will be a rarity!
The best part is that you may own this landmark gold coin at the introductory price of just £69 (plus £4.99 postage and packing) – but only until 30th September 2021 after which the price will be £99, subject to availability. There is a limit of one coin per household at this introductory price.
Why not have a look at the 2021 50th Anniversary of Decimalisation Gold Sovereign range available here.