Description
The 2019 Heroes of Gold Beach Gold Quarter Sovereign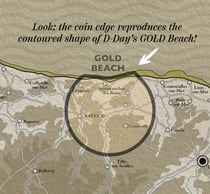 Seventy-five years ago, Allied forces in World War Two launched the largest attack by land, air and sea in history. The mission was to capture the beaches of Normandy, in France, to create a pathway into mainland Europe to allow it to be liberated from the grip of German occupation.
This was Operation Overlord and in the words of Sir Winston Churchill it was "undoubtedly the most complicated and difficult" operation that  had ever taken place.
The first day of this assault on the Normandy beaches has become known to history as 'D-Day'.  Now, in 2019, we mark the 75th Anniversary of D-Day with an innovative gold quarter sovereign coin, the first ever to be produced with a contoured edge,  matching the shape of 'Gold' beach where British troops led the attack on D-Day. It's the first of its kind, ever.
A GROUND-BREAKING GOLD COIN FOR AN EVENT THAT CHANGED HISTORY
On 6th June 1944, while naval vessels bombarded the heavily fortified German defences along the Normandy coast and Allied aircraft mounted a relentless airborne assault, British, Canadian and American troops stormed a number of targeted beaches as part of the D-Day Landings.
Gold beach was assigned to British troops and was the central beach of the five designated landing areas on the Normandy coast. High winds made conditions difficult for the landing craft but after determined flighting, the beach  was reclaimed from the German troops. By the end of the day, almost 25,000 British soldiers had landed at Gold beach.
With so few veterans of this conflict still with us today, it is all the more important to remember their service to our country. A unique and lasting commemoration ensures that future generations  understand what was achieved on D-Day 1944, and at what cost.
The new sovereign coins that have been minted to mark this important anniversary are technically demanding to strike – a significant British gold coin for an event of national importance.
Never before has a quarter sovereign coin with a contoured edge been struck. Authorised by The East Caribbean States and minted in Britain it is a superb tribute to the heroes of D-Day.
To reflect the cooperation of British, US and Canadian troops on D-Day these coins – remarkably – feature their face value in both 'sovereigns' and 'dollars'!
Minted from solid 22 carat gold, the mintage is restricted to just 4,999 coins. This means that fewer than 1 in every 5,000 UK households can
own one.
This offer is no longer available – Those interested in owning this world-first The 2019 Heroes of Gold Beach Gold Quarter Sovereign for under £100 may do so now by taking advantage of the introductory price.  The coin is available for just £99.99 (P&P is free) but only until 30th September 2019 after which the price will be £199.99 (P&P is free). This is subject to the coin selling out prior to this date.